Instructor Bio: Ian Lebby
---
Ian Lebby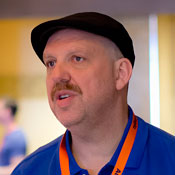 Trainer, Technical Training Program, WORLDPAC, Inc.
Helpful Links
For a complete list of available classes and to register, please use the following links:
---
WTI Classes
Mercedes-Benz Body System II and III
Mercedes Service Complete Vehicle
Mercedes-Benz Engine II
Mercedes Transmission 722.6
Mercedes Chassis Dynamics III
Professional Background
2006 – Present: Owner, Independent Mercedes Service
2002 – 2006: Mercedes-Benz Shop Foreman
1999 – 2002: Operations Manager, MZF Inc.
1997 – 1999: Shop Foreman, European Motors of San Francisco
1995 – 1997: Automotive Shop Foreman, Smythe European
1992 – 1995: Automotive Shop Foreman, Autobahn Motors
1986 – 1992: Automotive Shop Foreman and Line Technician, Stead Motors
1982 – 1986: Automotive Line Technician, Mercedes-Benz Car Service
Starting in 1977 in the UK, Ian began his automotive career working at a gas station in Tadcaster, England. Here he performed basic services to the Mercedes-Benz automobile as an apprentice until he moved to the USA in 1982. In the USA Ian quickly progressed through the dealership world to Shop Foreman status and achieved Master Guild Technician, the highest award possible, 2 years running. This award is based on several levels of testing and is only awarded to the top 30 highest scoring technicians in the USA – Ian tested against 3,000 to 5,000 dealership technicians and won with a score of 100%. This outstanding achievement is an excellent example of Ian's dedication to the Mercedes-Benz product.
Certification
Degree in Electronic Engineering and Computer Technology
ASE Master Technician and L1
California Smog Certification
MACS Certified
Extensive automotive training courses
Automotive training courses - Hayward
Automotive transmission courses - Alameda
Small business management courses
CSI related classes
Professional Accomplishments
Automotive Master Guild Winner 1998/1999
Automotive Master Technician (4 years)
Personal
Ian lives and works in California and is married with two children.